If you are an Australian hotel, bar, café or restaurant owner, during the spring you will be preparing your alfresco areas for an influx of customers who will choose to sit outside.
You're in business to make business – and for that, you need repeat customers. If you offer them tired, uninspiring surroundings, that is hardly conducive to an enjoyable dining experience.
Looking for alfresco inspiration? You do not have to spend a small fortune to freshen up your al fresco areas, and with a bit of imagination, you can create an area that will prove popular throughout the summer.  Here are our top five alfresco dining ideas to keep your customers coming back.
Tip 1 – Shade is King in this Country
You'd think this too obvious to mention, but you would be surprised by the number of proprietors who do not supply sufficient shaded areas for their patrons.  Perhaps it isn't cost-effective or even possible for you to create permanent shade for your alfresco areas, but there is a solution. Umbrellas.
The beauty of umbrellas is that café umbrellas can be easily moved around to provide shade where and when needed and stored safely away in the winter months.  And if you move premises, you can take them with you.  You can also choose from a variety of styles and modern colours and include your branding on the canopies.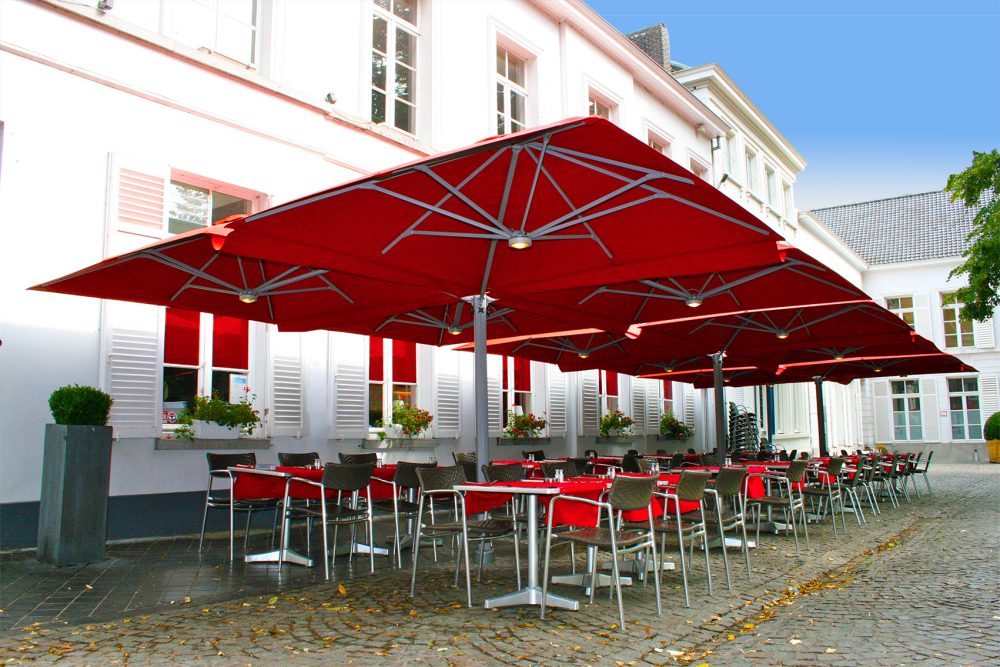 For dining tables with centre holes, centre pole café umbrellas are a perfect choice, and tiltable versions enable you to continue blocking the sun as it moves across the sky.
An excellent umbrella for the poolside is the rotating cantilever umbrella, which is so easy to operate, your guests can adjust the cover themselves as the sun moves.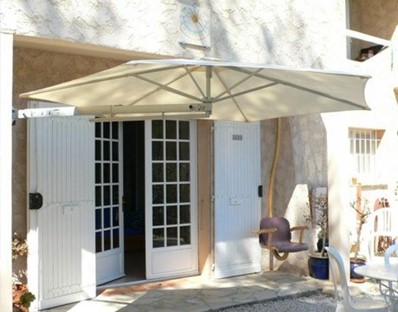 For those alfresco areas where it isn't possible or feasible to use a standard umbrella, there are also other cantilever and wall mounted options, which don't have centre poles, allowing people to move more freely around the space.
Tip 2:  Cosy is Cool
Next on our list of alfresco dining area ideas is to create a cosy atmosphere.
Not all patrons want to share their dining experience in a large noisy area with fifty other diners. Think first dates, romantic proposals, or just a desire for privacy for couples or small groups.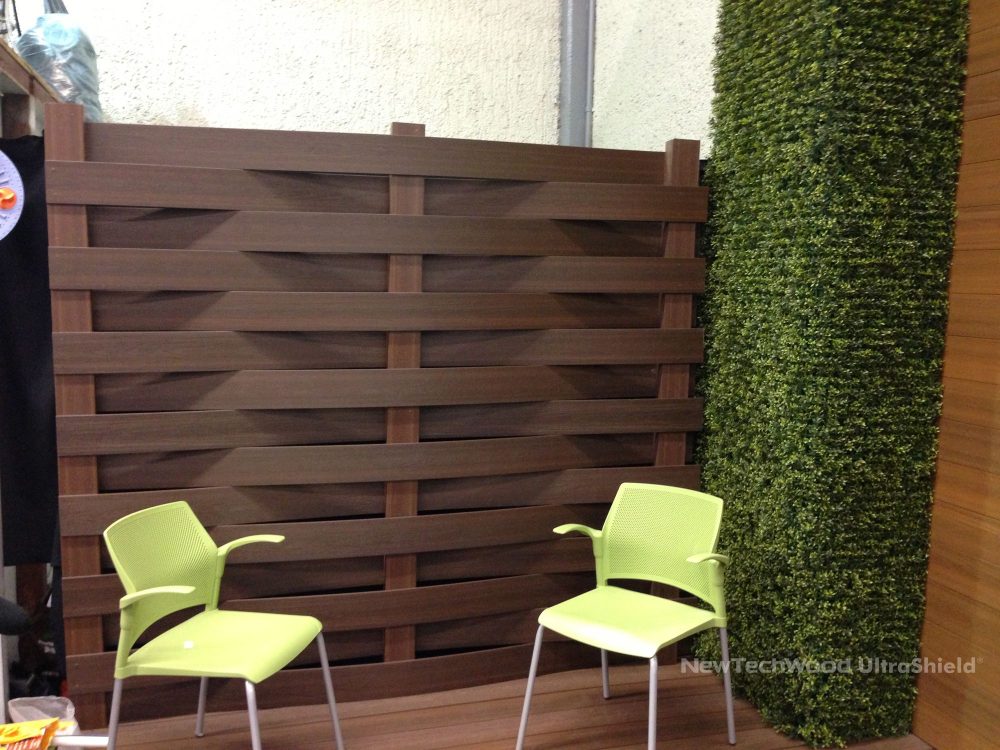 Most restaurants with alfresco dining only allow for open-plan seating. And there is nothing wrong with open-plan seating – it is a staple of alfresco entertaining in Australia.  However, private booths allow for more intimacy and will encourage your patrons to linger longer, enjoying the hospitality with the privacy they desire.
So you can create a point of difference for your restaurant, by catering to both needs – easy open-plan dining and intimate dining.
You can easily create private areas using screening panels, which may be pre-assembled, or specially constructed by a carpenter to complement your décor. In fact, screening can also block off areas like bin storage, or kitchen/serving areas, providing a cleaner, more professional look.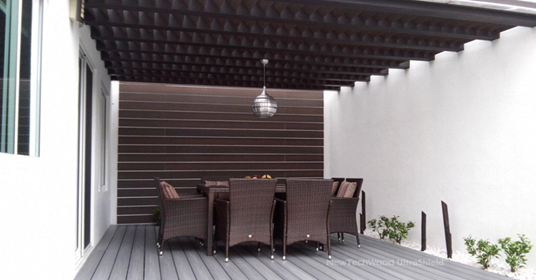 We realise natural timber requires a lifetime of ongoing maintenance to retain its appearance and integrity, but there is no need to forgo the natural timber look. Composite timber screens, like NewTechWood for example, provide that natural timber look without maintenance.  They are UV and fade-resistant, termite-proof, and never need oiling or painting.  A wash-down is all they need to keep them in pristine condition.
Tip 3:  Poolside is for Partying
There is nothing worse for a guest than being informed that the pool area is out of bounds for deck maintenance.  If you have a natural timber deck, that is a common occurrence.
Natural timber is beautiful, but the problem around pools is the damage sustained over time due to the natural elements causing it to rot and warp. Re-sanding and re-oiling or painting takes time, but nobody likes splinters or stabbing themselves on a loose nail either.
Perhaps it is time to consider a low-maintenance deck?  Like paving, or if you prefer the timber look, a composite timber deck?  Like NewTechwood, for example.  There is no need for any maintenance other than keeping it clean as you would any flooring.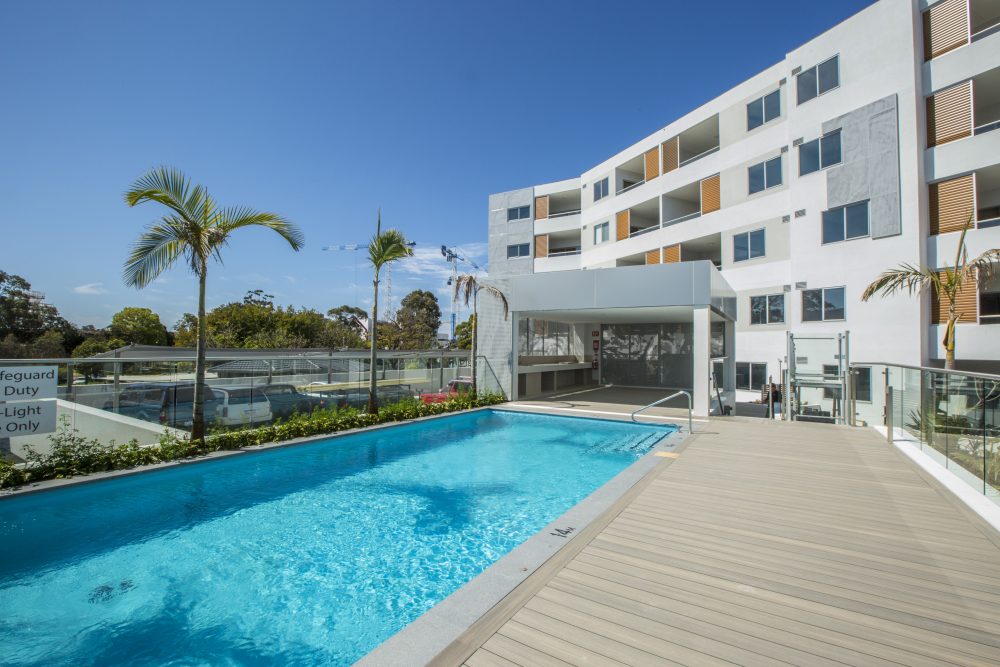 Tip 4:  Set the Mood with Lighting
If you install decking, include deck lights.  Not only are they a safety feature, but they also create a lovely ambience, casting a gentle glow for those special evenings.  Lights, such as Owlia, can be installed in decks or on walls, cladding, or screening.
When you don't want bright lights ruining the mood, but you need illumination, these lights do the trick.  You can have your bright, open dining alfresco areas suitable for rowdy crowds and families, and you can also provide cosy secluded areas with soft lighting for those patrons seeking a more intimate experience.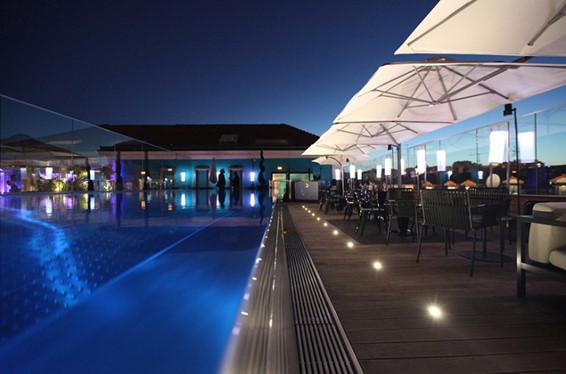 Tip 5:  Alfresco Inspiration 
And last on our list of alfresco dining design ideas is to pretty it up!
Add a lick of fresh paint where needed, adorn the area with appropriate ornaments and add some greenery.  Greenery is hugely important, as it looks beautiful and softens the space. Trees, plants and flowers alone can transform an ugly space.
The decoration is everything. Set the mood. Nobody enjoys a dull sterile environment that looks as though it was thrown together in a hurry.
Comfort, ambience and safety are your keywords for developing the perfect alfresco area to bring your customers back time and again. Just remember everyone is different… you can't please everyone all the time, but you can please a lot of people many times with just a few modifications.
So follow some of these top tips and put your alfresco dining restaurant on the map.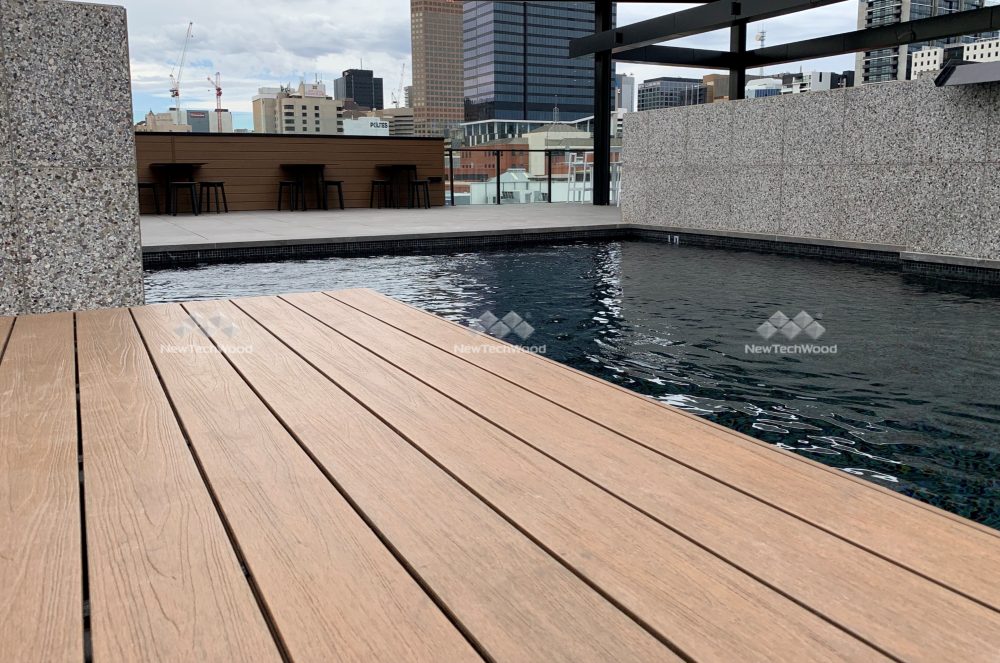 And there you have some alfresco inspiration for your restaurant or hotel.
For more information on our products or help with alfresco dining ideas, feel free to contact our friendly team!
Need an umbrella sorted out for summer? Contact us!
Contact Form
"*" indicates required fields