Lockdowns have taught us the value of investing in our backyards and creating spaces we can live in and enjoy. Add to this the approaching summer season and the fact that we Aussies love to party outside. It makes sense to develop a backyard outdoor entertaining area that caters for that aspect of our lives.
Some of the things we envisage when we consider outdoor entertaining area designs include:
Pools and spas
Pergolas and Patios
Large screen TV's
Outdoor Kitchen or BBQ areas
Lighting
Fire Pits
Gardens
Outdoor furniture
Play Areas for Children
10 Outdoor Entertaining Area Ideas
While it may not be possible to have everything on our wish list immediately, there are things we can do that will make a huge difference and get us started on the path to backyard bliss.
Here are just 10 of some popular backyard entertainment area ideas to stimulate your creativity:
1. Backyard Design Options
Each area of your outdoor space should have a purpose. It shouldn't be about keeping up with the Joneses or current fads; it needs to be functional and meet your family's particular lifestyle needs.
Consider the space you have to work with and how you are most likely to use it in reality.
Are you more the laze around the pool kind of family? Or do you like to gather with friends for BBQs, watching your favourite sporting teams play on a big screen?
Are you into large family meals requiring long tables and benches to seat them all? Do you have young children with play equipment?
Think about what you really need from your outdoor space and start from there.
2. Patio Design Ideas
If you live in Australia, you will know why most outdoor entertaining area designs include verandas or patios. However, new homes don't automatically come with a patio – this is usually an additional feature.
A patio installation shouldn't be considered an unworthy expense, as it will increase the functionality of your home and can also be a value-add.
Choose a design that best suits the style of your house, e.g., a modern, minimalistic aluminium style or a rustic log timber and stone design. Aesthetically speaking, as an extension of your house, you want it to look like a natural part of the existing architecture.
3. Still Talking "Shade"
Sometimes it is not practical or even permissible to build a permanent structure, e.g., a patio or pergola. This is especially true for those renting or living in apartments with balconies, yet we all still need protection from the sun and rain.
This is where outdoor umbrellas come to the rescue.
You can choose between various umbrellas that fit into your outdoor table via poles, can be moved around on wheelbases, or fixed to an outside wall.
Shadowspec is one manufacturer that offers all three umbrella options for commercial and residential use. You can choose from a large range of popular modern colours, with branding options for businesses, that will complement your existing décor and extend the amount of time you can enjoy the outdoor life.
4. Adding Outdoor Decking
Nobody wants to step out their backdoor directly onto sand and mud, and this is hardly ideal for entertaining either.
The question of decking comes down to styling and preference. The options are numerous and depend on taste, budget, and lifestyle.
You can choose between stamped concrete, pavers, timber decking or composite decking. A composite deck, like NewTechWood, looks like real timber but without the lifetime of maintenance required for real timber.
The size and placement of your deck should take into consideration its intended use.
If you are retired and live in a very small home, the chances are you don't need a large deck area. On the other hand, if you are just starting out with a young family and many outdoor entertaining gatherings ahead of you, a larger deck area may prove beneficial.
If you start small and plan to extend later, it's important to understand that as you will be buying a different batch of deck materials. This means there may well be a slight, however noticeable, colour difference, or you may find the pavers or boards you originally bought may no longer be available.
5. BBQ or Outdoor Kitchen?
What would best suit your unique needs and budget, a BBQ or outdoor kitchen?
An outdoor kitchen complete with kitchen sink is an excellent idea for those who entertain outside a lot and have the space and money to install one. But let's face it, like sunken lounge rooms and the second separate dining room, a complete outdoor kitchen is a luxury that may be a great idea for some, but is hardly essential.
If you don't have the space or money to install an outside kitchen, why not make your inside kitchen more accessible via bi-fold doors or windows with a serving counter?
In any event, allow room outside for a BBQ and counter space that is convenient and sheltered, yet not in the way.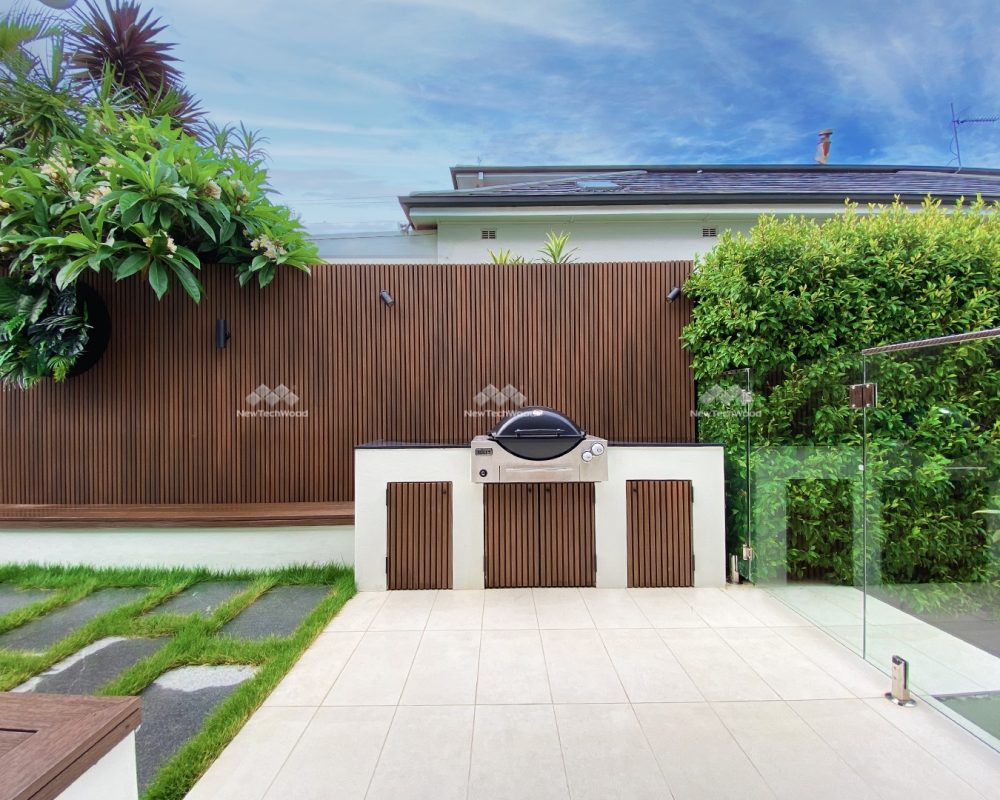 You can also add a bar fridge, saving multiple trips into the kitchen.
If your family and friends love pizza, why not consider installing an outdoor pizza oven? You can put the ingredients out on a table then and let your guests design and cook their own!
6. Furnishings & Lighting
Again, think about functionality before you go shopping.
Don't overdo your patio furniture. You need room to move; the less clutter, the larger the area will look and the easier it will be to maintain.
Ask yourself the tough questions before you buy. Just because outdoor tables come in sizes to seat 10, do you really need one that large? Do you need both an outdoor lounge suite and a dining table?
If you entertain large friend and family groups regularly, it may be a good idea to have both, but if you don't, it may be an unnecessary, dust-collecting expense that takes up space.
Other outdoor entertaining ideas for special occasions include decorations, music and lighting. Lighting such as fun fairy lights, sconce lights, and deck lights, can not only create a unique ambience to really set the mood for your event, but is also a practical safety measure.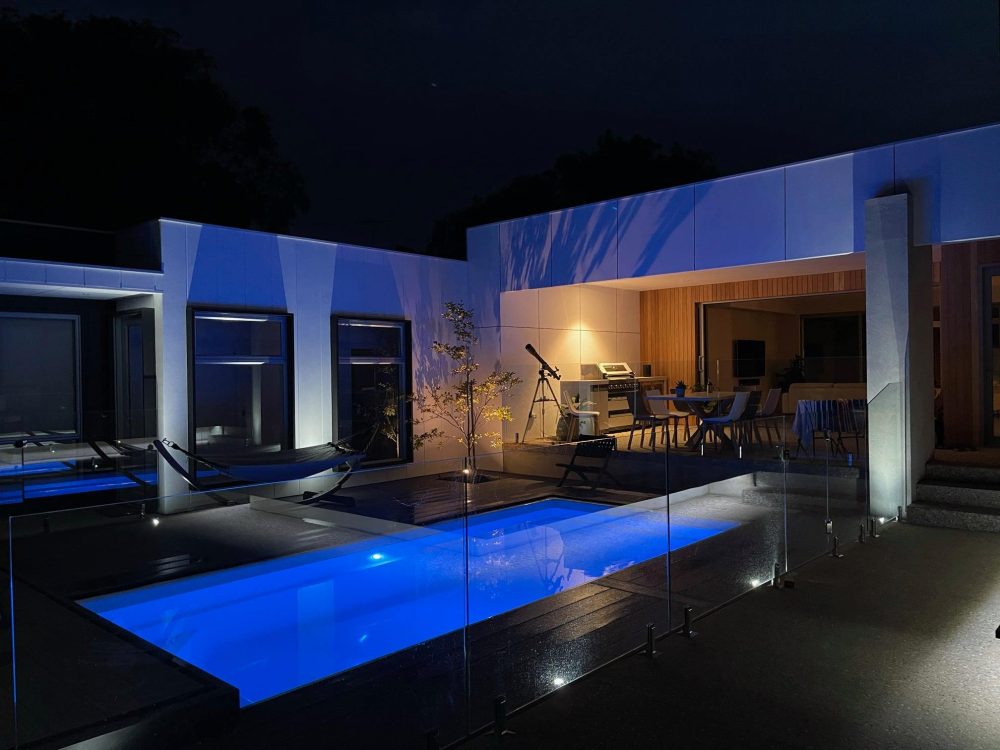 7. Adding a Fire Pit
In the cooler months, entertaining outside is doable, provided your guests are protected from the elements and the cold weather.
Fire pits are great for this.  If you have the space and would use a firepit, this can also add a beautiful visual feature to your backyard outdoor entertaining area.
Keep in mind the safety requirements with fire pits and think about the practicality if you have young children and pets.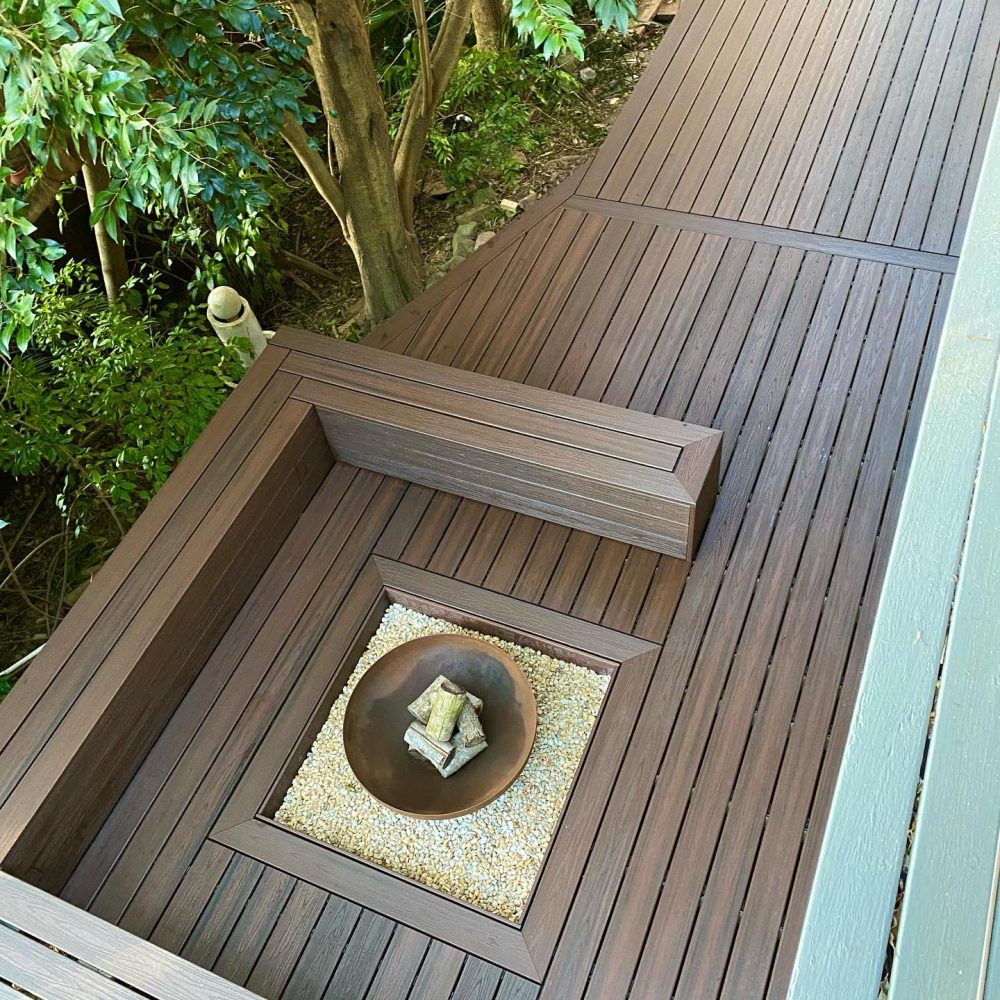 8. The Type of Garden
Every outdoor entertaining area design will incorporate a garden one way or another.
Whether you prefer a minimalistic lawn and paved garden area, a colourful English country garden, or a practical Australian native garden, greenery is an important component to creating an outdoor space where you can relax and enjoy your surroundings.
If you are not into gardening, choose plants that are hardy and will almost take care of themselves, like Australian natives. Otherwise, you may find maintaining your lush outdoor surroundings chews up your valuable spare time.
If you have a small backyard, choose small plant varieties as anything too large will take up valuable space and make the area appear smaller. Consider vertical gardens, which can also be used to cover ugly wall areas, sheds, and fences.
Now, fake lawn or real lawn? This comes down to personal preference and again, functionality.
Real lawn is better for pets and children to play on and doesn't contribute to heat island effect. However, it also needs watering and mowing. At the end of the day, consider what works best for your lifestyle and budget?
9. Swimming Pool or Spa?
Who doesn't love a backyard pool? Well, you may be surprised to discover there are people who don't. One person's refreshing aquatic experience is another's money-gobbling, high-maintenance water feature.
Think seriously on this one. It may benefit you to invest in ducted air conditioning instead. On the other hand, if you have a young family or entertain a lot and you love splashing around in the water, go for it.
Pool ownership is not cheap; you will spend a lot of time and money on maintenance, cleaning, and chemicals, while your power bill shoots up. Even spas are not without their running costs and maintenance requirements.
However, if you don't live close to the beach and you want to enjoy our beautiful hot summers and not be locked away inside, there is a lot to be said for a pool.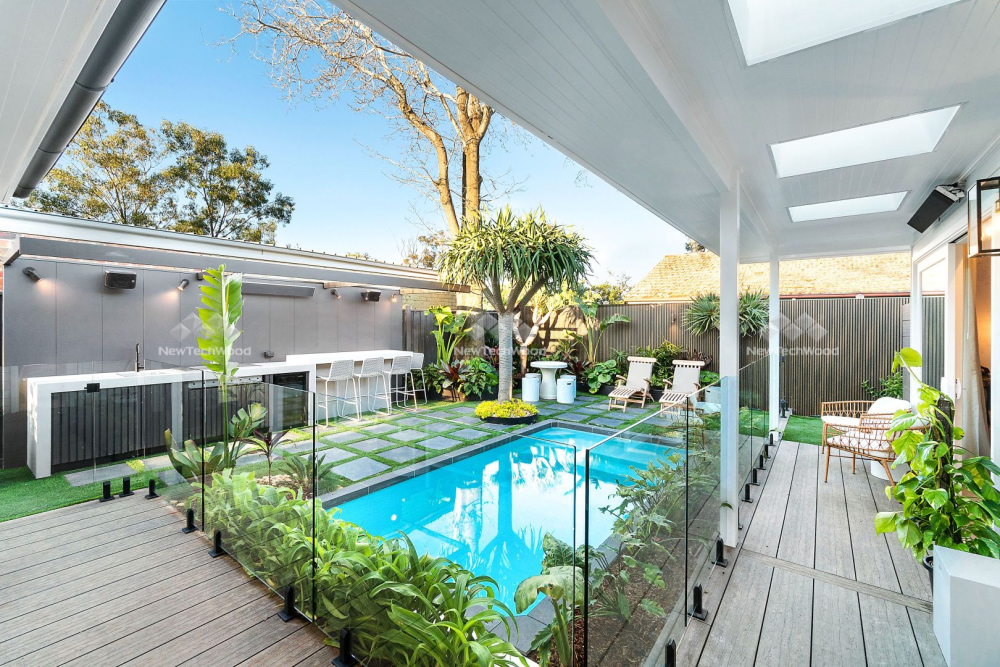 10. Hide the Uglies
This one is obvious and can range from literally hiding ugly things in your backyard to camouflaging items that can't be removed and put in a shed.
You can grow creeping plants over an ugly fence or garden shed or make them look new again with a fresh coat of paint. Place your new plants inside decorative plant holders rather than leaving them in their ugly plastic containers. Hide pool equipment, water heaters, rubbish bins or air conditioning units with screening.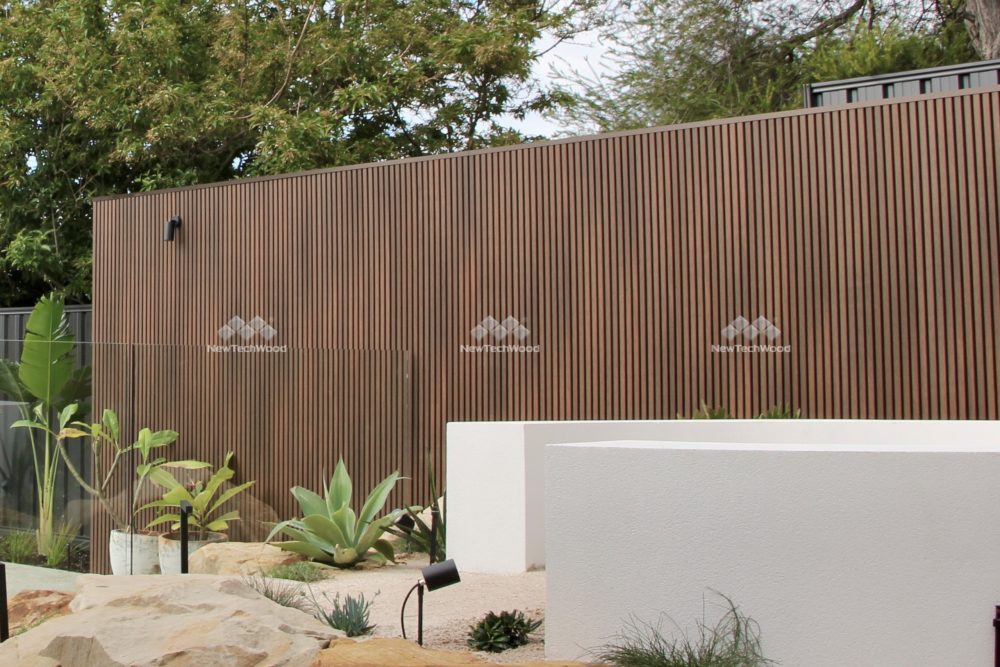 We hope this article has given you some great outdoor entertaining area ideas to help you make the right style and design choices for your family to enjoy this summer and all the summers ahead.
If you'd like more information on NewTechWood composite decking and screening products, or Shadowspec umbrellas, please contact our friendly team.